Craft Cocktails & Martinis Workshop $65

Quick Facts
Duration - 3 hours
Age Requirement - 19+
Pre-Requisites - None

Class Time and Date Options
Weeknight Classes - Fridays from 6:30 to 9:30 PM.

Learn all about Craft Cocktails & Martinis!
From James Bond's 'Shaken, not Stirred', to the those fashion savvy girls on 'Sex and the City', this 3-hour workshop follows the trends of today's hottest lounges and cocktail bars. You'll learn how to prepare and sample both classic recipes and modern day mouth-watering libations with impressive, eye-popping garnish.

This workshop is great for both the working bartender and home entertainer and cocktail enthusiast. It's also great for corporate or private group functions such stagettes and night-on-the-town get-together's. If you wish to book a group, see our group rates.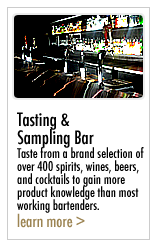 Workshop Content
The history of the cocktail.
The origins of the martini glass and how the olive made it's way in.
James Bond, Sex and the City, Made Men, and the effects of popular culture on the cocktail.
How to use fresh fruits and make your own fresh juices and simple syrups.
Recipe preparation, garnishing and glassware preparation techniques.
Sampling of both classic and signature TIB recipes.

A small taste of the recipes, you'll taste!
Vesper
Gordon's Gin, Stolichnaya Vodka, and Kina Lillet, shaken and served
with a lemon twist, just as James Bond likes it.

Vodka Martini
Classically stirred with Wyborowa Exquisite Vodka, Dry Vermouth, and a couple dashes of Fee Brothers orange bitters.
Manhattan
The blend of Maker's Mark Bourbon, Martini & Rossi Sweet Vermouth, with a dash each of Angostura and Fee Brothers Orange bitters. Stirred to perfection and finished with a cherry.



Vanilla Chocolate Martini
A stirred mixture of Absolut Vanilia vodka and BOLS Creme de Cacao.
Espressotini
Forget Vodka and Red Bull, this is the connoisseur's way of mixing caffeine and vodka. A shaken, energizing mixture of Polar Ice Vodka, Kahlua, simple syrup, and chilled espresso.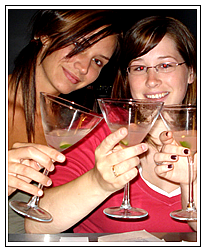 Dale de Groff Cosmopolitan
The classic shaken combination of Absolut Citron vodka, Cointreau, Cranberry Juice and a squeeze of fresh lime. Garnished with Dale's infamous flamed orange twist.
Toby Cecchini Cosmopolitan
The original, more tart version of the cosmo shaken with Absolut Citron vodka, Cointreau, fresh lime juice and a dash of cranberry juice for colour. Garnished with a lemon twist.
Under the Blue
BOLS Blue Curacao, BOLS Lychee, Plymouth Gin, fresh squeezed lime juice and simple syrup shaken and finished with a dash of grenadine. Garnished with a lychee. A TIB signature recipe.
Big Apple Sour
The simplified, yet refined version on the Apple Martini, this shaken mix of Bacardi Big Apple Rum, fresh squeezed lime juice and simple syrup is guaranteed to be a favourite. Finished with a green apple slice. A TIB signature recipe.
Old New York
New Amsterdam Gin, Pama Pomegranate Liqueur, fresh pressed pomegranate and lime juice with added simple syrup. Finished with a twist of lime.
Hpnotiq Sidecar
This TIB twist on the Classic Sidecar calls for Hpnotiq, Cointreau, fresh squeezed lemon juice and simple syrup, shaken well and garnished with a lemon twist.
Château Cassis
A regal blend of Creme de Cassis, Cointreau, fresh pressed pomegranate and fresh squeezed lime. Fresh berries for garnish.