About the Program
****Please be advised that all training and workshops are held at our new location in the Distillery District as of May 1st, 2018. If you're enrolled in a class after May 1st, please joing us in our new location. ****
Whether you're looking for a career, planning to travel, need a way to pay for school, or simply wish to supplement your income, bartending just might be for you. Imagine yourself working in the world's most exciting and dynamic industry. Meet new people. Make new friends, and best of all, earn great money while you do it.
Gain the competitive edge you need to get the best shifts and make the most money. TIB's industry leading Bartender Certifcation program will give you both the training and knowledge you need to be successful. This program gives you instant experience and allows you to work in all types of environments including bars, pubs, clubs and restaurants.

Location - In the heart of Toronto's Distillery District at 16 Trinity St, Toronto, ON. M5A 3C4.
Age Requirement - Minimum 18 years to earn the certification. Must be 19 years of age or older to taste any alcoholic beverages.
Our program focuses equally on all beverage categories through a series of tastings modules and practical skills training. You'll taste and learn how to prepare and pour over 60 different spirits, wines, beers, liqueurs and cocktails as part of your training, to get a true sense of each brands' specific taste profile and makeup, making you more knowledgeable than most working bartenders.
We'll also educate you on most up-to-date customer service and selling techniques to help you maximize your tips and increase customer loyalty, putting more money in your pocket. Come find out what makes a TIB graduate more employable to the industry's top bar, club, pub and restaurant operators, and join the thousands of other bartenders who started right here at the Toronto Instititue of Bartending.

Class One
Introduction to the Program
Meet and mingle with all the students in your class while easing into the program. During this time, we'll review the program as a whole, including class content and breakdown, so you know what each day of training will consist of, and what you'll have to prepare for.

Product Tasting - Cocktail Bitters, Vodkas and Gins
We've carefully selected a variety of brands in each category to cover a diverse range of flavours, production methods, and geographical origins. The categories in this tasting module include aromatic cocktail bitters from Trinidad & Tobago, and the United States, vodkas from Holland, Sweden and Poland, and gins from Scotland and London.

Cocktail Bitters
You will start by sampling a variety of aromatic cocktail bitters such as Angostura, Fee Bros, and Peychaud's to learn their historical relevance to the bar, and applications in cocktails.
Vodkas & Gins
The spirits tastings start with the sampling of a selection of premium vodkas such as Absolut, Ketel One, and Tag No.5 , as well as premium gins such as, Beefeater, Hendrick's, and Tanqueray No. Ten . Each category is tasted side by side, so you can distinguish their different tastes and make ups, and how each brand is used in a cocktail application.


Skills Development - Bar Tools, Bar Setup, Cocktail & Shooters Preparation
Our skills training and development modules will give you confidence you need to excel in any type of establishment. Whether it be a bar, restaurant, lounge, club or pub, you'll gain the key skills required to maximize your tips.

You'll learn:

Opening, Running & Closing Procedures
Preparing Juices, Sodas, Garnish, Ice, etc. How to properly clean and close down the bar. Preparing juices, sodas, garnish, ice.

Stocking the Bar
Know how to offer a diverse selection of tastes, origins, and flavour profiles by learning to correctly choose the right spirits, liqueurs, beers, and wines without breaking the bank.

Tools for Bar Service
Learn the importance of having the proper tools to prepare and serve everything from beers and wines, to cocktails and shooters. Most bartenders show up to their first shift without even a beer bottle opener. This is a common mistake as most beginner bartenders don't realize that many establishments expect you to have your own set of tools, just like their chefs and other culinary professionals.
You'll learn how to use boston shakers, jiggers, glass rimmers, muddlers, proper wine and beer openers, julep and hawthorn strainers, and more. Knowing how to use these tools will greatly increase your efficiency and credibility amongst other seasoned bartenders, as well as allow you to prepare cocktail recipes as they are supposed to be prepared.

A full set of bar tools will be provided to you throughout your training, but you can buy your own bartenders tool kit from our Bar Store to make sure you can duplicate every cocktail you learn both on the job and at home.





Free-Pouring Spirits, Liqueurs and Mixers
You'll learn and practice how to accurately free pour, spirits, liqueurs and mixers to help increase both your speed and efficiency behind the bar. This important skill will allow you to eliminate the use of measuring tools, yet still accurate prepare each and every recipe, every time .You'll also learn proper measure pouring techniques as well how the pour systems work in the larger high volume establishments .

Cocktail & Shooter Skills Training
Unlike most bartending schools, we don't waste valuable class time teaching long forgotten recipes that people simply don't order, just to fill time. Our program teaches you how to prepare and serve both the classic and modern day recipes that people are ordering in today's bars, restaurants, pubs and lounges, to keep you up-to-date.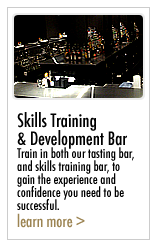 Recipes Categories & Preparation Methods
Although we'll teach you all the popular classic and modern day recipes, it's important to know that most establishments have their own cocktail list you'll need to learn once hired.

To ensure you're can properly prepare any recipe on any cocktail list, we'll teach you all the important recipe categories and preparation methods so that each and every drink you make and serve, is as good as the bartender that created it.

You'll learn a specific list of cocktail and shooter recipes as chosen by TIB, which include martinis, highballs, lowballs, collins', sours, shooters and more. The preparation method categories include shaking, stirring, straight-up, muddling, building, on-the-rocks, rolling, and layering.

For those interested in learning more about Craft Cocktails, TIB has Craft Cocktails, which is a training and sampling workshop that focuses on extending your cocktail expertise and recipe knowledge.

Garnishing
Garnishing is a major focus of your cocktail training. You'll learn how to prepare each of the five main garnish categories including olives, cherries, lemons, limes, and mint, as well as learn their application in a cocktail.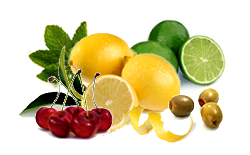 This important component also teaches you how to make a proper twist and other cool garnishes, to add presentation and value to all the cocktails you make.


Class Two
Product Tasting - Rums, Tequilas and Whiskies
Sample a wide range of premium rum, tequila and whiskies brands from each spirit category to cover a diverse range of flavours, production methods, and geographical origins. This tasting module includes the following brands:
Leblon Cachaca , Captain Morgan Spiced Rum , Havana Club 7 Anos Aged Rum, Jose Cuervo Gold Tequila, Patron Silver 100% Blue Agave Tequila , Patron XO Cafe, Crown Royal Canadian Rye Whisky, Jameson Irish Whiskey, and Johnnie Walker Black Label Scotch Whisky .

This tasting module allows you to sample three brands from each spirit category side by side, so you can distinguish their different tastes and make ups, as well as how to use each brand in a cocktail application.



Skills Development - Speed, Efficiency and Building Confidence
Spending more time on guests, as opposed to time on preparation, will ultimately yield higher tips and increased guest satisfaction. This section of your training will teach you all the essential skills needed for a successful bar shift. Below are some of the skills covered in this section:

Preparation
Most bartenders spend much of their time simply trying to keep up with service. To stay ahead of the game and in the money, we'll teach you how to stay well stocked in all areas of the bar throughout every shift, to give you more time to spend on your guests and earn better tips.

Multi-Pouring & Handling Glassware
Handling multiple glassware and pouring with multiple bottles at one time, are skills that every bartender should have. We'll teach you how to increase speed by accurately pouring both spirits and mixers at the same time, as well as how to efficiently ice and pour into a variety of different glassware.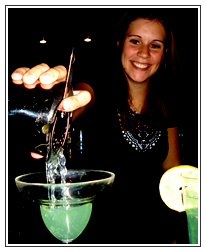 You'll also practice advanced pouring and preparation techniques with emphasis on both speed and accuracy to make you feel more comfortable behind the bar.

Speed Rounds & Confidence Building
2 Drinks at Once
This portion of the program teaches you to start thinking and making in multiples, to increase speed of service. You will start by making two drinks at once, consisting of the cocktail and shooter recipes learned in class one. Each round of drinks is timed to start building on your skill and confidence.

Class Three
Product Tasting - Wines & Beers
Taste a wide variety of wines and beers that are stocking today's busy bars, restaurants and hot spots. You'll taste light to medium bodied white and red wines, as well as beers from each beer category, including Lagers, Pilsners, Ales and Stouts.

Wine Tasting
One of the most important part of bar training is wine knowledge. In this portion of the tasting module, you'll sample both light and full-bodied white and red varieties. This will allow you to make better offerings and food pairings, as well as have a base to continue to build upon your wine knowledge.

The wine tasting lineup includes:
WINES Hillebrand Reisling (white), Peller Estates Chardonnay (white), Peller Estates Merlot (red), and Hillebrand Cabernet Sauvignon (red).






Beer Tasting
As a country that consumes a lot of beer, you're going to need to know all about it. Sample a full lineup of the four main beer categories as part of your training, including Lagers, Pilsners, Ales and Stouts. Both our beer categories and beer brands have been specifically selected by TIB to ensure you understand different beer tastes, make ups, and overall flavour profiles.
We've also made sure to to split the tasting selections into both multi-national brands, Guinness and Stella Artois, as well local Ontario craft brewery brands, Mill St. and Steam Whistle, both of which are made right here in Toronto.

The beer tasting lineup includes:
BEERS Stella Artois Lager, Steam Whistle Pilsner, Mill St. Tankhouse Ale, Guinness Stout



Skills Development - Pouring Beer and Wine
Draught Pouring & Bottled Beer Service
The way a draught beer is poured greatly effects it's overall taste, presentation and value to your guests. With our 14 fully functional draught beer taps, you'll learn you how to properly pour all major beer categories to allow you to maximize both taste and freshness with every beer you pour.

Learn and practice these pours and more only at TIB.



Wine Service


Every bartender and server must know how to properly open and serve all types of wines and champagnes. It's one of the most important parts of your training, and is covered in great detail to ensure you'll feel comfortable opening and pouring in front of guests.

This component of your training will teach you how to properly open and accurately pour any wine type. You also learn proper wine etiquette, as well as selecting proper glassware for each type of wine, and we'll even show you some easy tips to keep each and every wine glass spotless to ensure no return wine orders.

You'll also learn the correct serving temperatures for each wine type to ensure your guests are getting an optimal wine experience on each and every pour.



Champagne Service


Champagnes and sparkling wines have different opening and serving procedures than traditional wines. We'll teach you all about those differences, as well how to properly chill and store champagne and sparking wines.

Skills Development - Customer Service, Speed and Building Confidence
Customer Service & Maximizing Tips
Preparing and serving drinks quickly, is just as important as the manner in which they're served. That's why we focus and teach you how to offer great service, which is the back-bone of all our training programs, courses and workshops.

This very important component of the program will teach you how to do just that. Learning and implementing these techniques will give you the opportunity to attract more guests to you and your establishment, help create a greater following of regulars, and ultimately, earn you more tips. Some of the topics covered in the service component are as follows:
Knowing What You're Selling
Staying out of the 'Weeds' and 'In the Money'
21 tips to Service Excellence
Suggestive Selling & Up-selling
How to Suggest the Specifics
Gratuity Etiquette
Special Needs Guests
Customer Service & Suggestive Selling Group Workshop
In this module, you will break into teams to discuss methods of effective service and up-selling/suggestive selling to guests to help increase sales and tips. This portion of the program will help you prepare for both role playing modules within class, as well as real life settings with guests.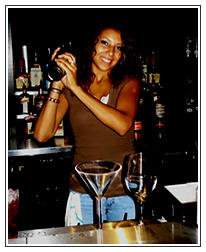 Speed Rounds & Confidence Building - 3 Drinks at Once
Through this portion of the program, you will build a series of drink rounds as if you were really working the bar. Each round is timed and consists of all major drink categories including cocktails, wines, beers and shooters, to give you the skill and confidence you need to start working in a real bar.

Role Playing
To further build your speed and confidence, you'll be put through role playing rounds to prepare and serve cocktails to other students which act as guests, and fill drink orders under pressure. This will allow you to build confidence, reinforce your recipe knowledge, and learn how to adapt to different guests with different tastes.

This module also allows you interact with guests, to practice how to execute the customer service habits necessary for maximizing your tips, which you'll learn throughout the Customer Service module.

Class Four
Product Tasting
Cocktails, Martinis, Shooters, Liqueurs, Vermouths and Sparkling Wines
During the final tasting session, you'll sample a variety of cocktails, martinis and shooters, made with an assortment of spirits, liqueurs vermouths and sparkling wines.

The brands in this tasting includes Bailey's, Cointreau, Grand Marnier, Hpnotiq, Kahlua, Pama, and Trius Brut, a sparking wine made right here in the Niagara region, using the same production methods as the Champagnes made in France.
You'll also taste Martini & Rossi sweet and dry vermouths as part of the martini tasting, two standard ingredients used in both the Classic Martini and Manhattan. We'll also mix with spirits such as Polar Ice Vodka, Wiser's Canadian Whisky and Absolut Citron, the vodka used in the original Cosmopolitan.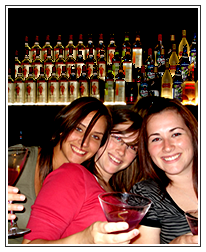 Cocktail, Martini & Shooter Tasting
From mojitos and martins to Caesar and Sours, you'll taste today's most popular cocktail recipes ranging from classics, to modern day variations.

There's also a shooter sampling session which covers all those great tasting shooter recipes that everyone's always ordering at the bar, including the B-52, Jager Bomb and Flaming Sambucca, as well as a couple others we can't mention by name.

The cocktail, martini and shooter lineup includes:
COCKTAILS Caesar, Caipirinha, Champagne Cocktail, Collins,
Long Island Iced Tea, Manhattan, Margarita, Mojito, Whisky Sour.
MARTINIS Classic Gin Martini (Shaken), Classic Vodka Martini (Stirred), Cosmopolitan.
SHOOTERS B-52, Baby Guinness, Dr. Pepper, Flaming Sambucca, Irish Car Bomb, Jager Bomb, Polar Bear, Sex on the Beach, plus others such as the BJ, MD, and Women's Revenge.


Skills Development - Job Assistance and Administrative Duties, Speed and Building Confidence
Job Assistance
When it comes to getting you hired, no other bartending school in Canada can compete with TIB. We won't give you false hopes and false promises of 'Top Jobs for Top Grads' just to get you to enroll, as every industry employer is looking for different types of staff and staff qualities when making the choices of who they'll hire to work within their establishments.
Within the Job Assistance module of the program, we'll give you a clear picture of what employers are really looking for and cover all the important aspects of how to land that great industry job you're looking for.
With such a high turnover in the industry, there are always jobs available. From building a resume to outlining busy hiring seasons throughout the year, we'll teach you how to find and land the best jobs. There are many establishments that hire without experience, and through the job assistance portion of the program, we will detail who they are, and how to get hired by them.

Visit the TIB Job Centre to learn more about how we can get you hired.

Bar Administration
The administration portion of the program covers a wide range of topics faced when working in a bar, club, restaurant or lounge. We will review topics such as payment types, credit card systems and procedures, cash register systems, liquor control and inventory systems, cashing and tipping out at the end of the night, and much, much more.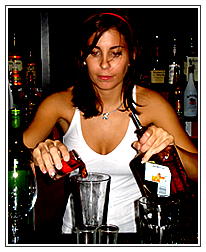 Cash Register Systems
As there are literally dozens of different types of cash registers out there, we do not waste time training you on one specific type. 99% percent of establishments will ensure that you receive proper training on their specific systems. We educate you on all the different types, as well as what their general functions are, to make the establishment a more efficient workplace.
Inventory and Liquor Cost Controls
Just like cash register systems, there are many different types of pouring and inventory control systems available nowadays. We will discuss all the different types as well as how they function. We also detail how to accurately count and control liquor cost.

Speed Rounds & Confidence Building
4 Drinks at Once
Through this portion of the program, you will build rounds of drinks as if you were really working the bar. Each round is timed and consists of all major drink categories including cocktails, wines, beers and shooters, to give you the skill and confidence you need to start working in a real bar.

Testing
The testing for this program is completed in the last module of week four. Your grade is comprised of a cumulative score of both a practical and written multiple choice test. This method of dual testing incorporates both the hands-on skills you have learned, as well as the knowledge and theory you have retained, to see how far you have come in the four weeks/classes.

To make our program credible to both you and employers, we don't pass you simply because you've enrolled, which means your certification is legitimate. The program has been built to allow you to pass as long as you pay attention and participate in all the training an exercises.

If you do not meet the required mark to earn your certification, you do have an opportunity to re-do the practical and/or written test in order to receive it at no additional cost to you.