About the Program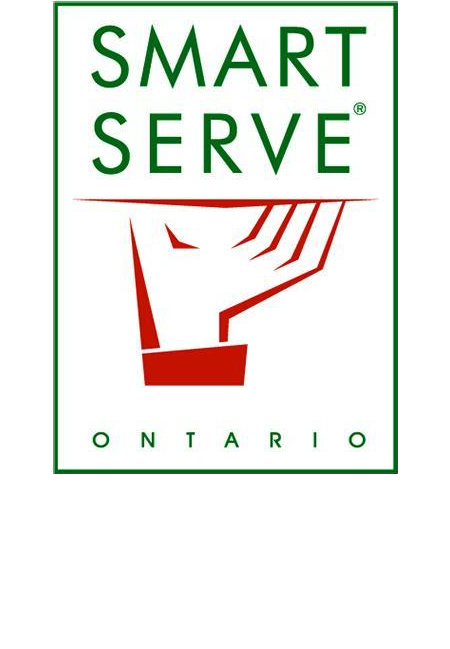 ****Please be advised that all training and workshops are held at our new location in the Distillery District as of May 1st, 2018. If you're enrolled in a class after May 1st, please joing us in our new location. ****
If you plan to work in the industry as a Bartender, Server, Manager, Door/Security Staff or Golf Course Marshal,
YOU MUST BE SMART SERVE CERTIFIED BY LAW. Smart Serve Ontario Certificate training program is designed to educate servers, bartenders, managers and other staff members as to what their responsibilities and obligations are under the law, as well as recognize the signs of intoxication and implement intervention strategies for aggressive customers.

Designed by the Hospitality Industry Training Organization of Ontario, the Smart Serve Ontario Certification program also helps staff and management develop proactive approaches to preventing alcohol-related problems. Smart Serve Ontario is recognized by the Alcohol and Gaming Commission of Ontario (A.G.C.O.) as the official Responsible Server Training Program in the province of Ontario.

Developed originally for the licensee, the Smart Serve Certificate training program has proven beneficial for all who are involved in the sale and service of alcohol beverages. If you plan to work in areas where alcohol is served, Smart Serve can train and certify you to legally serve alcohol in the industry.

The legal age to serve alcoholic beverages in Ontario is 18. The following people must be Smart Serve certified:

BARS / RESTAURANTS Managers, Bartenders, Wait Staff, Door Staff and Security.
CATERING Managers, Bartenders and Wait Staff.
GOLF COURSES Bartenders, Wait Staff and Course Marshals.
SPECIAL OCCASION PERMIT HOLDERS Applicants, Bartenders, Managers, Door Staff, Security and Wait Staff Legally, you may start working as a server or bartender without the certification as you have 60 days from the start of employment to obtain your Smart Serve certification.

99 % of EMPLOYERS ASK FOR SMART SERVE PRIOR TO HIRING YOU, so it is wise to complete it as soon as possible. Program Content TIB offers the Smart Serve program in a class setting with a TIB instructor. You cannot come in to complete the program on your own, you must book into a class. It takes approximately 3 hours to complete the program. There is no studying required prior to the class as it is built to be completed within the 3-hour time frame.

The testing is including within that time. The first 3 hours consist of reviewing the Smart Serve video and completing the exercises within the workbook. The test is completed in the last 30 minutes. Upon successful completion of the program, your certification card will be forwarded to you by mail within 3-6 weeks. TIB cannot control or speed up the time frame in which your card is issued as your test must go to Smart Serve's head office to be marked. If you do not successfully complete the Smart Serve test, you have an opportunity to re-write it at no additional cost.

***PLEASE READ***
If you have enrolled into the SMART SERVE certification program, you must present a valid copy of a government issued photo identification in order to take part in the training. This is strictly for varification purposes only.

* Approved dictionaries and/or other translation publications may be used within the SMART SERVE training program, permitting english is not your native language.
*Please be advised that we reserve the right to audit/inspect any addtional training tools you bring and temporarily hold them if school requirments are not met at the sole descretion of our instructor staff.